Posted by

Last week specialist family law firm, Hartnell Chanot & Partners, hosted the inaugural Grandparents' Association Regional Conference at Darts Farm.

The event created a forum for grandparents from across the South West, allowing them to come together, discuss their problems and gain useful information about their contact problems. Attendees travelled to the event from across Devon, Cornwall, Dorset and Somerset.

The speakers at the event represented a wide range of organisations that frequently interact with grandparents who struggle to have regular contact or build relationships with their grandchildren. Among those in attendance were Emma Thompson, CAFCASS Officer; Hannah Penfold, Justices' Legal Advisor; Stephen Sowden, Director of Hartnell Chanot & Partners as well as Monica Cockett & Penny Rogers from Devon Family Solutions.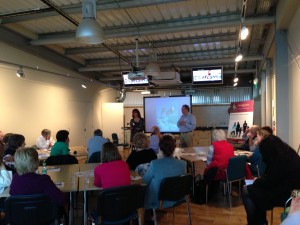 The atmosphere on the day was fantastic; the wonderful estuary side location offered by Darts Farm played the perfect backdrop to a truly engaging event.
Stephen Sowden, Director of Hartnell Chanot commented: "Today's event provided us with a fantastic opportunity to bring together a group of grandparents from across the region. This gathering allowed them to gain information that would help inform their situations, discuss the avenues available to them and the possible outcomes."
Need some advice? Get in touch today
---