Posted by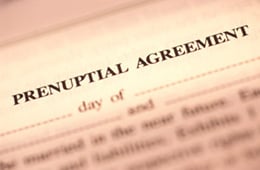 The prevalence of DIY pre-nuptial agreements, often available online for a £100 fee, has increased recently –but few people realise they have limited legal worth.
Many solicitors decline to advise on these DIY documents, often following a phone call which runs something along the lines of the following:
"I have assets I'd like to protect and have downloaded a pre-nuptial agreement from the internet. I'm very happy with it but it says my partner and I need independent legal advice, even though it's in plain English and we understand it. If I pay cash would a solicitor sit with me for a few minutes and go through it to tick that box?"
Most solicitors will refuse purely on the basis that taking money to read a document in plain English to someone who already understands it isn't ethical, however, what many people don't realise is even if a solicitor has looked at the document it still may not be worth the paper it's printed on.
There are a few reasons this is the case thanks to the landmark Radmacher and Granatino case in 2010, when the court's standard view on pre-nuptial agreements was established.
It is now the legal position that a court will generally hold separating couples to any pre-nuptial agreement – unless it is unfair to do so.
So why may it be unfair to do so? We've laid out some of the reasons why below:
Absence of full disclosure
If a document is drawn up without the scrutiny of a solicitor how is a court expected to know whether each party fully disclosed their assets to the other when they reached  agreement? Even if full disclosure was made, how would you prove it?
Duress
Again, without the involvement of a legal professional how is a court expected to know whether pressure has been placed on either party to enter into a pre-nuptial agreement, and whether this pressure has been excessive or unreasonable?
Also, you'll again be expected to prove there was no pressure, which will be impossible to do.
Lack of understanding
Courts expect each party in a pre-nuptial agreement to have a full understanding of the agreement they signed. Without a legal professional having been involved to explain the terms to either party at the time a court may take the position that one or both parties didn't have a full understanding of what the agreement meant
Even if both parties do have a clear understanding the court will expect you to prove this – which is again nigh on impossible to do without a professional's involvement.
Even if a solicitor does take money to read through the document with both parties a court may call that advice into question, particularly if full disclosure hasn't been given. A token fee paid to a friend who happens to be a criminal defence solicitor is unlikely to meet the standard expected by a court.
Fairness
Even if none of the above problems are encountered a court still has a duty to consider whether an agreement is fair in principle, something which is at the court's discretion.
The most famous example is the 2014 Luckwell and Limata case. In this case the wife entered the marriage with a £6m fortune while the husband brought very little in terms of assets to the marriage. The pair drew up a pre-nuptial agreement, with the help of solicitors, which stated the husband would receive nothing should the marriage end in divorce.
The court ruled this agreement was unfair, despite the fact both parties agreed to the pre-nuptial, fully understood its implications, had received expert advice, had provided full disclosure and there was no duress involved.
This was because the court's felt the fact the agreement made no provision at all for the husband, however long the marriage and whatever his circumstances, was fundamentally unfair. The husband was awarded £1.2m, £400,000 of which would be returned to his ex-wife once their youngest child turned 22.
This case shows how pre-nuptial agreements must be fair and equitable – and can occasionally be seen as unfair and unequitable even when drawn up by legal professionals.
The moral of the story is that there is no "off the shelf" answer to pre-nuptial agreements, and the only way to be sure you're agreeing to one which will stand up to scrutiny is to seek expert advice from divorce solicitors Plymouth or Exeter.
Need some advice? Get in touch today
This site is protected by reCAPTCHA and the
Google Privacy Policy
and
Terms of Service
apply.
The information submitted here is used and stored for the purpose of replying to the enquiry. For more information on how we process data please visit our
Privacy Policy
.
---