Posted by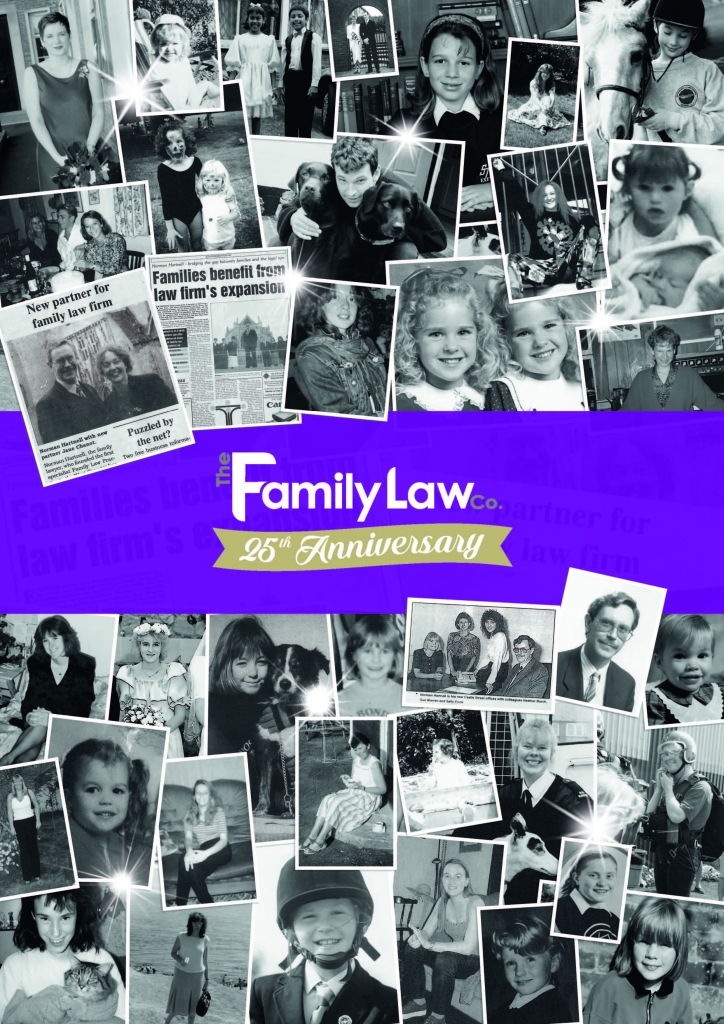 25 years is a long time in anyone's book. It's around a third of the average lifespan – a sobering thought. So much has changed over the last 25 years, with technological advances getting faster and faster. And there have been a lot of changes to The Family Company, currently celebrating 25 years as a specialist family law firm. Here are just some of the highlights:
The 90s
The Family Law Company started life in 1991 as Hartnell & Co after being founded by Norman Hartnell who saw the need for dedicated help for family law issues. Always a trailblazer, Norman was the first arbitrator in the South West region for finance, and more recently children. Another trailblazer was Stella Rimington, appointed as the first female director general of MI5 in December 1991.
Some of our favourite female characters were born – in 1994 the Vicar of Dibley was broadcast for the first time, and 1995 saw first The Diary of Bridget Jones column published in The Independent.
Jump forward to 1997 when Jane Chanot joined the company. Jane has since proved an amazing force in family law, particularly representing clients involved in international child abduction – she is a member of the ICACU, only one of eight in the country. This was also the year when another talented woman JK Rowling published the first Harry Potter novel, Harry Potter and the Philosophers Stone.
In 1998 the Family Mediators Association founded, helping the public to find information on their local mediators. It now represents over 400 family mediators.
A new decade, a new century
2001 was a game changer when Steve Jobs introduced the first iPod. We have always embraced technology, and were the first law firm in the country to have computers on every lawyer's desk.
In 2003 Norman suggested changing the name of the company to Hartnell & Chanot – the name change took off like a rocket in the same year that the first two Mars Exploration Rover space probes were launched.
Communication became more immediate with the introduction of first Facebook in 2004 and Twitter in 2006. We are active on both Twitter, with 1164 followers and Facebook with 351 likes.
Locally to our Exeter offices, Princesshay shopping centre was rebuilt – proving a great temptation to the many of our female staff! The Family Law Company is proud not to have a glass ceiling – 50% of the company is owned by women, and we are proactive in encouraging admin staff to pursue a legal career.
In 2008, Barack Obama, the USA's first African-American President was elected, and in 2009 The Equality Act came into effect, consolidating legislation requiring equal treatment in access to employment and services regardless of gender, race, health, disability, sexual orientation, belief and age. We work to make family law available to all, with French, German and Spanish speakers in house, and two lawyers trained in British Sign Language.
Institute of Family Law Arbitrators ('IFLA') set up in 2012.
This decade
In a complex case in 2011, the Supreme Court ruled on an unmarried couples property dispute, giving Patricia Jones a 90% interest in a family home owned jointly with her former cohabitee. One of our Partners, David Cobern has just written a book "Living together and the Law" to advise unmarried couples on their legal rights in just this type of situation.
2012 was the year of the incredible London Olympics – we all got very excited!
In 2013, Hartnell Chanot rebranded to The Family Law Company to better explain what the company specialised in. This was, sadly, also the year that private family law lost eligibility for legal aid funding.
In 2015 the Divorce Courts were centralised. CILEx Donna Hart won the CILEx President's Award. She is also a Director and Owner of The Family Law Company and a Trustee of Citizen's Advice Bureau.
Our 25th
Our 25th year as a specialist family law company has been a year to remember. Jane Chanot's team won 'Team of the Year' in the inaugural Devon & Somerset Law Society. We are finalists in this year's Family Law Awards and Modern Law Awards.
10 other facts you might not know about us!
1. Associate Solicitor Vanessa Priddis also sits as a Judge
2. The company has 72 employees
3. We have offices in Plymouth and Exeter and a legal clinic in Taunton
4. Director Stephen Sowden specialises in representing grandparents and is a Trustee for the Grandparents Association
5. The firm was the first law firm in the country to have its lawyers qualify as mediators
6. Four of our lawyers are qualified as collaborative lawyers
7. We offer a free legal clinic at Exeter CAB and Cranbrook CAB
8. We have close links with the emergency services. Partner Rachel Buckley specialises in representing members of the armed forces including wives of members of the British forces who live overseas
9. We support Force and domestic violence support organisations Splitz and SAFE
10. We have a table tennis in every office to make sure staff take a break
Need some advice? Get in touch today
---