Posted by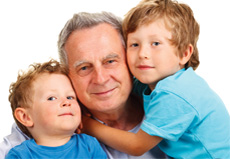 Leading family law company The Family Law Co is urging grandparents to make an effort to understand their rights when it comes to contact with their grandchildren and has seen an organisation it works with receive a prestigious endorsement – in part because of the work it has carried out alongside the Family Law Company.
Grandparents' rights are a confusing issue, with many people unaware of exactly what they are.
Solicitors at The Family Law Company are often asked about this issue and the sad fact is when it comes to divorce and separation grandparents do not have an automatic right to contact with their grandchildren.
However, the invaluable role grandparents play in family life is recognised by family courts and it is rare for a court to refuse a grandparent access to grandchildren – unless there is evidence to suggest it would be unsafe to do so.
In order to spread that message The Family Law Company regularly works with the Grandparents Association and now hosts monthly meetings for members seeking advice at its Exeter offices.
That work with the Grandparents' Association, supporting family relationships, has now been recognised – with the Association securing a Help and Support for Separated Families (HSSF) Mark.
The HSSF Mark is a Government approved standard which forms part of the Help and Support for Separated Families initiative.
Designed to help separated families work together in children's best interest, the initiative is meant to help parents and grandparents feel confident they can trust organisations with the mark.
Need some advice? Get in touch today
This site is protected by reCAPTCHA and the
Google Privacy Policy
and
Terms of Service
apply.
The information submitted here is used and stored for the purpose of replying to the enquiry. For more information on how we process data please visit our
Privacy Policy
.
---