Posted by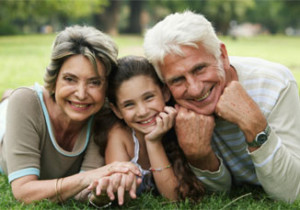 The recent Christmas and New Year period makes us all reflect on the past year and time spent with family and friends. The giving and receiving of gifts, and the quality time spent with family during the festive period, is sometimes missed by those that do not have contact with family members. This is often a period where missed relationships are highlighted.
Grandparents are playing an increasing part in grandchildren's lives, for example supporting families with child care. When contact breaks down between grandparents and grandchildren, whether it be through a marriage breakdown, death of a family member, or through other family issues, it can be a very distressing time for all those involved, but what rights do grandparents have when contact breaks down?
Courts are now starting to recognise the vital role that grandparents play in a child's life and, although grandparents do not have an automatic right to contact with a grandchild, it is very rare that the Court will refuse contact unless it is not safe, or the negative impact on the parents is substantial. The Courts have started to recognise that contact between grandparents and grandchildren can help a child with a feeling of belonging, and generate a mutual sense of well being.
There are many local groups and national organisations which support those that have no contact with their grandchildren. This has helped the Court recognise the vital role that grandparents play.
If you aren't able to see your grandchildren, here's an action plan from us here at The Family Law Company.
Action Plan
Take the first step – Approach both parents to request contact. Don't raise other grievances. This is not an opportunity to bring up past events. Remember you do not have a right to contact.
Family Mediation – Consider attending family mediation. This is a way of avoiding or reducing court costs and time. Mediation can only take place if both parties agree to take part, but often allows parties to settle their differences quickly and comparatively cheaply.
Approach a Solicitor – If steps 1 and 2 have not been successful, or you feel you need legal support during mediation, speak to a specialist solicitor. Good legal advice will help you make an application to the Court.
Make an Application to the Court – A grandparent will always need to apply for permission (leave) to apply for a Child Arrangements Order. A Child Arrangements Order sets out how much contact a child should have with a family member and can also specify where and with whom a child should live with. The Court, on receipt of an application, will consider the grandparents connection with the child, the nature of the application and whether the application might be potentially harmful to the child.
The Court will only make an Order where an Order would be more beneficial to a child than no order at all. The Court may direct that indirect contact is best for the child, for example letters and presents sent to the child from the grandparent.
Courts will now take into consideration a grandparents involvement in a child's life. If you have lost contact with your grandchildren and would like to know more about grandparents rights please contact The Family Law Company on 01392 421777 or email [email protected]
Need some advice? Get in touch today
This site is protected by reCAPTCHA and the
Google Privacy Policy
and
Terms of Service
apply.
The information submitted here is used and stored for the purpose of replying to the enquiry. For more information on how we process data please visit our
Privacy Policy
.
---