Posted by

Solicitors across the UK, including our own Exeter solicitors, could be set for an interesting wave of new requests in the future with news that the 'prenup' law that allows a couple to agree the terms of a divorce prior to them becoming married is set to go before ministers.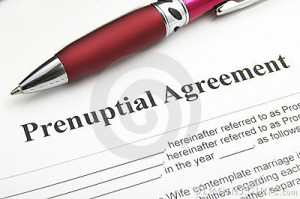 A new package that is expected to advise a revamp of the divorce laws is to be published by the Government's law reform advisers during February.
The prenuptial agreement is legally-recognised across the U.S. where they are used widely. However, critics claim that they undermine marriage.
The 'Matrimonial Property, Needs and Agreements' proposals, drawn up by the Law Commission after more than four years of wrangling, will outline a new law 'to consider the treatment of pre-nuptial, post-nuptial and separation agreements'.
New rules would be suggested on how one partner in marriage should meet the sincere financial needs of the other after divorce.
The package could quite possibly include rules to counteract what is known as a 'gold-digger'. The term is used to describe a bride or groom who attempt to secure assets – such as a family-owned company or an inherited fortune – that were not previously theirs in the event of divorce.
The plans are set to be presented to Justice Secretary Chris Grayling together with comprehensive recommendations for legislation to go before Parliament.
Need some advice? Get in touch today
This site is protected by reCAPTCHA and the
Google Privacy Policy
and
Terms of Service
apply.
The information submitted here is used and stored for the purpose of replying to the enquiry. For more information on how we process data please visit our
Privacy Policy
.
---