Posted by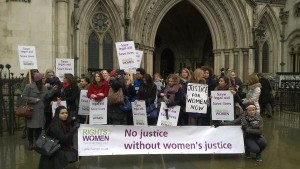 The High Court has heard a case which has challenged the legality of Government changes to legal aid which affect domestic violence victims.
The case was heard on Friday and coincides with the release of figures which showed how 40 per cent of victims in domestic violence cases do not have the required forms of evidence to access legal aid.
The legal challenge centred on the lawfulness of new rules which were introduced by the Government in April 2013. These rules require victims of DV to provide a prescribed form of evidence in order to qualify for family law legal aid. Some of these forms of evidence must be provided within a 24-month time frame, despite the fact many domestically violent offenders can remain as threats to their victims indefinitely.
A report published on Friday by Rights of Women, Women's Aid Federation England and Welsh Women's Aid showed how despite modifications to the list of requires evidence which were made in April 2014, almost 40 per cent of women suffering at the hands of domestically violent offenders are still unable to provide this.
These victims are left with a stark choice: pay a solicitor privately and risk getting into debt, represent themselves and be forced to face their perpetrator in court, or do nothing and continue to suffer.
Just under 60 per cent of women who responded to the survey which helped inform the report said they took no legal action purely because they knew they would not be eligible for legal aid. Therefore these rules deny access to safety and justice for the very women the Government sought to protect by removing family law from the scope of legal aid.
Shortly before the case was heard on Friday morning Rights of Women and several other domestic violence charities including Women's Aid hosted a demonstration outside the Royal Courts of Justice to raise awareness of the impact legal aid cuts are having on women affected by violence.
Law Society President Andrew Caplen said the hearing was an important one.
"Legal aid is a lifeline for victims of abuse," he said, "and enables them to escape from violent relationships, protect their children, and manage their financial situations. Access to family law remedies is vital in these cases. The statistics are shocking: each week in the UK two women are killed by a current or former partner and every year 500 recent victims of domestic violence commit suicide.
"The government's changes to legal aid mean these victims face over-strict tests which often prevent them getting the justice they deserve. Legal aid is often the only way someone suffering at the hands of a domestic abuser can have their case heard and without it many women are forced to face their perpetrators in court without legal representation, or worse still, live in conditions they should not have to."
If you need help with a family law matter and aren't sure whether you qualify for lgal aid why not use our legal aid calculator?
Need some advice? Get in touch today
This site is protected by reCAPTCHA and the
Google Privacy Policy
and
Terms of Service
apply.
The information submitted here is used and stored for the purpose of replying to the enquiry. For more information on how we process data please visit our
Privacy Policy
.
---