Posted by

Lawyers have featured in hundreds of films over the years, and when you think about it that makes sense.

For screen writers court room scenes represent an easy way to introduce drama into any plot, which makes it surprising there haven't been more court room dramas on the big screen over the years.

So as Exeter and Plymouth solicitors we thought we'd take a light-hearted look at some of the best legal based films from over the years.
1 Chicago
Chicago is probably the most famous legal drama ever made, having found huge success first on Broadway and then on the silver screen.
The film sees murderesses Velma Kelly and Roxie Hart go to trial, intent on putting on such a show in their court case that they'll capture the public's imagination and avoid the death sentence as a result.
Coached by their silver-tongued and smooth lawyer Billy Flynn, the pair dodge the death sentence and get acquitted.
You'll have to watch the film to see Flynn at his best, but his showmanship in the courtroom is a fantastic, if incredibly dramatic, portrayal of legal life.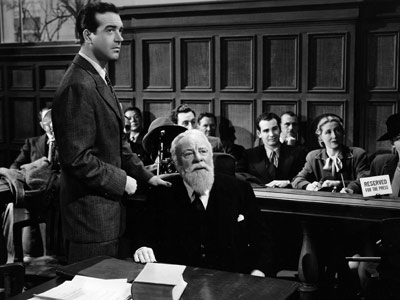 2 Miracle on 34th Street
The Miracle on 34th Street sees a young lawyer take up the cause of an elderly man who has been institutionalised because he believes he is Father Christmas.
The film shows the young lawyer, played by Dylan McDermott, putting aside his preconceptions that the old man must be crazy and dealing with the case as best he can.
The film shows how lawyers, even when faced with a seemingly impossible case, can deal with facts and information at hand.
The film reaches its climax with the lawyer getting a reward for his hard work and dedication, as it's proven the old man really is Father Christmas.
3 Liar Liar
Jim Carey starred in this 1997 film which showed how a young lawyer struggled to spend enough time around his family, especially his young son who often felt let down by his dad's inability to make it to occasions such as his birthday party, because of work commitments.
This being Hollywood, the film goes on to portray a string of wild and unlikely events, which ultimately end in Carey winning a crucial case but being fired for the way he did it.
What this film does show is how lawyers place a huge amount of importance on their work and are always committed and prepared to get the job done.
4 Legally Blonde
Legally Blonde isn't a film which you'd think would teach many lessons to people who want to know what lawyers are like.
The teen chick-flick is bubblegum light and trashy – but scratch the surface and it actually teaches a lot.
Lead character Elle, played by Reese Witherspoon, is a compassionate and caring trainee lawyer who has courage in her beliefs and stands up for them – just as real life lawyers do.
Need some advice? Get in touch today
This site is protected by reCAPTCHA and the
Google Privacy Policy
and
Terms of Service
apply.
The information submitted here is used and stored for the purpose of replying to the enquiry. For more information on how we process data please visit our
Privacy Policy
.
---