Posted by

We are singing the praises of our team for achieving promotions and professional accreditations.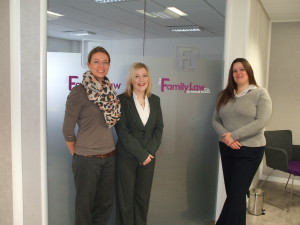 As family law solicitors in Exeter and Plymouth, we are committed to supporting and encouraging personal development across our two offices in Plymouth and Exeter. We were recently awarded Investors in People Standard for successfully developing and motivating our ever growing team of family law specialists and business support teams.
Donna Hart has been promoted to the position of senior associate. She works in the divorce and finance team in Exeter and chairs the Devon Chartered Institute of Legal Executives, playing an active role in promoting professional development and training events in the area.
Alex Boardman, based in Plymouth, is now a Resolution Accredited Specialist. Alex underwent a demanding assessment to demonstrate her expert level of knowledge and practical application of the law in order to achieve accreditation.
Charlotte Butler Kitto has successfully qualified as a solicitor. A member of Young Legal Aid Lawyers, Charlotte will be working in the divorce and finance team in Exeter. As well as undertaking private work, Charlotte will also be assisting those clients for whom legal aid is still available.
Charlotte said: "Having worked at The Family Law Company since 2010, the supportive atmosphere and inspirational people have made a substantial difference to my journey in qualifying as a solicitor. Now that I have reached that goal, I look forward to building on my knowledge and experience by learning from the highly-skilled lawyers within the firm."
Kirsten Parrick also joins the team in Exeter as the firm's new marketing manger.
Need some advice? Get in touch today
---