Posted by

Each year in May the UK recognises Deaf Awareness week. During this week people and organisations around the UK are encouraged to promote 'Equality in Communication for All' as well as raising awareness of issues surrounding deafness and hearing impairment.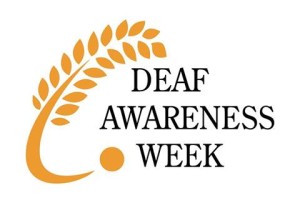 It has been reported that many deaf clients feel that law firms are not prepared and are not considerate of their special needs.Donna Hart, a Senior Associate Chartered Legal Executive at The Family Law Company said "It is not hard to believe that deaf clients feel discriminated in this way.  When my colleague Gemma and I attended our first BSL (British Sign Language) course at Exeter Royal Academy for Deaf Education, we were surprised at how different communication between deaf and hard of hearing people can be."
She added "Our initial part of learning was just explaining the basics, such as good eye contact, ensuring you have the person's attention before speaking, staying in their field of vision, ensuring the room is well lit and your face is not covered, talking in a normal voice and tone, not covering your mouth when speaking and using gestures and visual clues and pointing at anything which may assist you. Above all we were taught to be polite. These may sound obvious but it is amazing how many people do not know this or think to do it. At present Gemma and I have completed our Level 1 in BSL.
Whist we will still need the assistance of interpreters at meetings and court, we feel it important that already we can welcome a client by greeting them and asking them basic questions in sign language which we hope will put the client at ease. When seeing a solicitor for the first time, especially in family matters which are already stressful, it is important that the client feels at ease from the moment they enter the door".
Donna Hart is keen to undertake Level 2 of BSL from September 2014 and continue learning sign language.
During Deaf Awareness Week, Donna and Gemma will be teaching their colleagues to say their name in Sign Language to show their support for the event.
If you would like to discuss any of the issues of deaf awareness further with our team of family law solicitors then please do not hesitate to get in touch with us.
Need some advice? Get in touch today
---