Posted by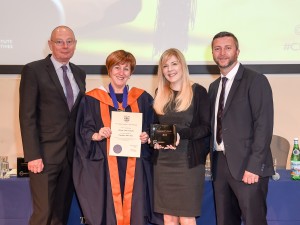 Donna Hart from The Family Law Company in Exeter received the President's Award in the recent Chartered Institute of Legal Executives (CILEx) Awards for her commitment to members in Devon.
The award is presented annually to an individual who has given 'outstanding service to CILEx or the legal community and who represents the organisation's values and ethos.'
Frances Edwards, CILEx President said: "Donna has supported hundreds of CILEx members in her community; she is a fine example of a Chartered Legal Executive and a champion of the opportunities CILEx provides."
CILEx offers a unique route to a legal career and becoming a qualified lawyer without the requirement of a law degree. Donna has been central to the development of the Devon branch of the organisation after she set it up in 2009, assisting other CILEx lawyers in the region through the organisation of CPD courses and promoting the use of social media to facilitate discussion and information sharing.
Donna also helps to organise the bi-annual Devon CILEx ball, which this year is raising money for two local charities close to her heart: Exeter Women's Refuge and Southernhay Contact Centre.
Jane Chanot, Director of The Family Law Company, said: "We are very proud of Donna who is a shining example to us all.
"Not only does Donna have a passion for her work and career, but she is also committed to encouraging school children to consider a career in law via the CILEx route, through her involvement with Inspiring the Future."
The award was presented to Donna by Frances Edwards at the CILEx Graduation and Admission Ceremony in Bedford. The award sponsor was Caswell Jones and CILEx.
Need some advice? Get in touch today
---